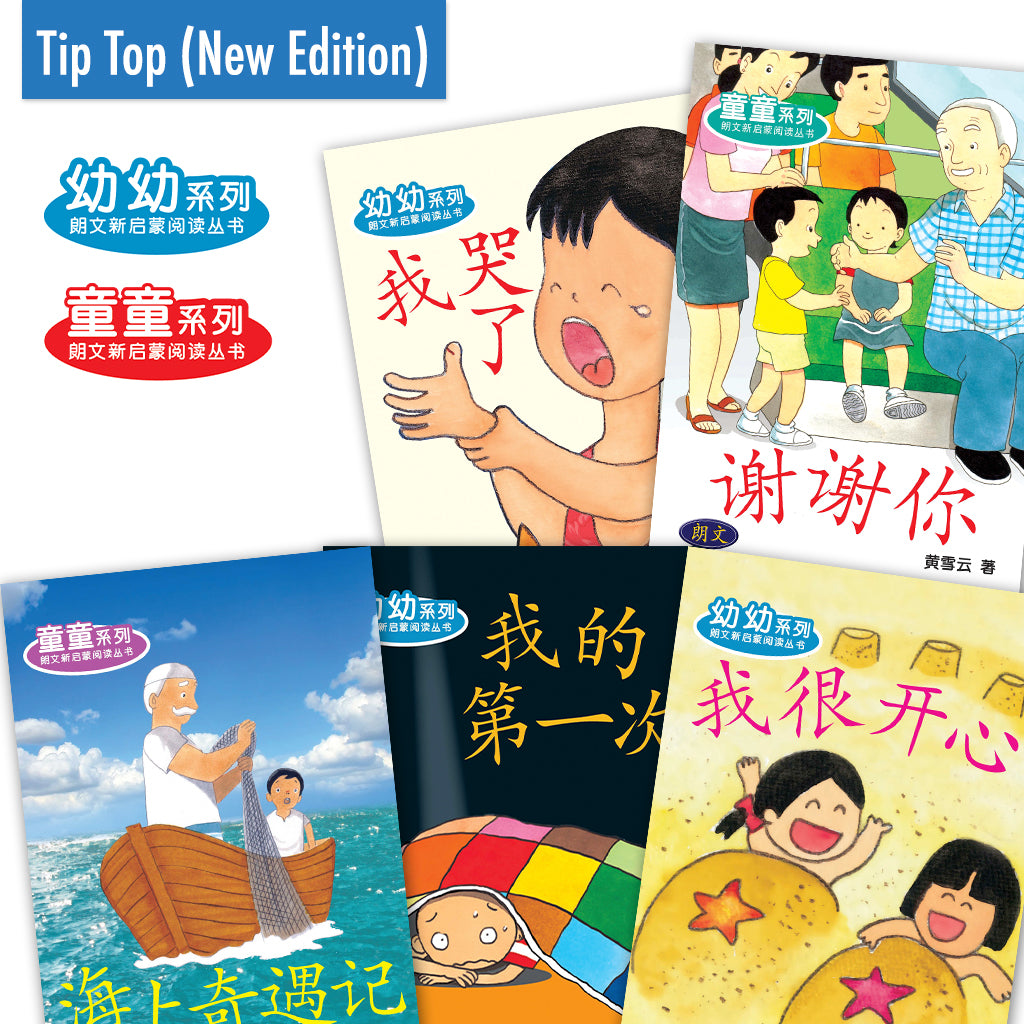 幼幼和童童系列 Tip Top (New Edition)
$286.00
Set of 32 books and 2 Audio CDs.
8 and 16 pages | 21 x 14.5cm | Fiction
For children 7 years old and below.
Tip Top (New Edition) Chinese Readers are progressively levelled to help preschool children build, practice and reinforce their reading, writing and comprehension skills.

Carefully crafted sentences combine with beautiful illustrations, bringing to life stories relating to relationships, emotions, moral education, poetry, Singapore legends and much more!
这是一套根据儿童学习特点所创作的图书。共分成两个阶段:"幼幼系列"和"童童系列",分别供五至六岁和六至七岁的幼童。

作者以其丰富的想象力,从幼童看待事物的角度着笔,把幼童常生活的琐事以及其喜、怒、哀、乐转化为一篇篇活泼、温馨、有趣的故事。

丛书的文字浅显易懂,从第一至第十六本,生词逐渐地增加,同时也不断地重复已学过的词与句。故事的插图生动、优美,色彩缤纷。

这套丛书还附上生词卡,帮助幼童学习认字。
View Title Chart : Click here
Features
Progressive levelling




Large Font




Pinyin




Flashcards (Embedded and perforated)




Audio CDs- Professional narration for every book 



Title List
| | | | |
| --- | --- | --- | --- |
| | Emergent | | Competent |
| 1 | 我要吃蛋糕 | 17 | 我和妈妈的蜡笔 |
| 2 | 穿衣服 | 18 | 爸爸的大船 |
| 3 | 我会自己做事  | 19 | 假如大象是我的朋友 |
| 4 | 我怎么啦?  | 20 | 我要做妈妈 |
| 5 | 我哭了 | 21 | 小黄鱼找朋友 |
| 6 | 我很开心 | 22 | 孔雀的生日舞会 |
| 7 | 我的第一次 | 23 | 河马医生的病人  |
| 8 | 我想去看看 | 24 | 想飞的毛虫 |
| 9 | 讲礼貌的小螃蟹 | 25 | 三只脚的朋友 |
| 10 | 小猪学本领 | 26 | 谢谢你 |
| 11 | 化妆舞会 | 27 | 马山叔叔生病了  |
| 12 | 一个大西瓜 | 28 | 小小圣诞老人  |
| 13 | 我是风 | 29 | 王子与狮子  |
| 14 | 月亮 | 30 | 海上奇遇记 |
| 15 | 谁在叫? | 31 | 姐妹岛 |
| 16 | 顽皮的小绵羊 | 32 | 最后一只老虎 |
Related Products