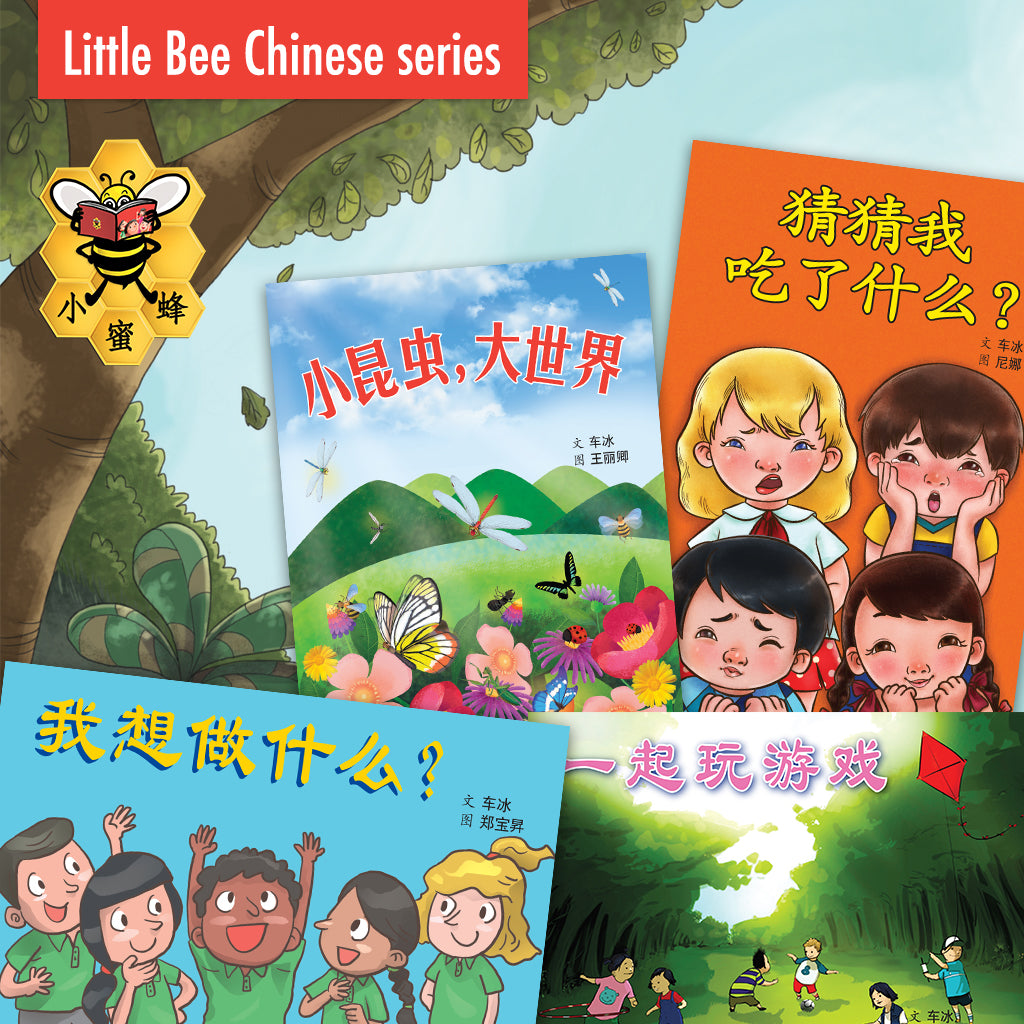 Little Bee
$286.00
小蜜蜂 Little Bee Chinese Readers
(Set of 32 books with downloadable audio narration)
8 and 16 pages | 21 x 14.5cm | Fiction | Free Local Delivery

Ideal for children 7 years old and below.
Little Bee injects hours of fun reading and re-reading the simple stories that are designed to engage children's curiosity about themselves and their surroundings. The meanings of sentences are supported by clever illustrations, which also engage the reader's response to the story plot. 
Features: 
Extra large fonts with supportive and vibrant illustrations
Word cards with corresponding picture cards for matching
hanyu pinyin behind the back cover
discussion question at the back cover
parent guide 
story narration digital audio
EdVenture Books 荣誉推出最新中文系列读本-小蜜蜂。
故事以日常生活作为题材,让孩子能在阅读中掌握各种各样的生活知识。
内容图文并茂,浅显易懂,配合精美的画面和栩栩如生的人物形象,让孩子在阅读时充分感受到乐趣。
丛书附带相应字卡、彩色图卡及阅读CD,能够有效的辅助教学,寓教于乐。
读本背面附有全文汉字拼音对照及相关讨论内容,配合特有的家长指导手册,能够帮助家长有效指导孩子的课外阅读。 
Title list: 
Colour band progression: 
 > 
 > 
 > 
1
 我的脸
17

 

小昆虫, 大世界
2

 全身痒
18

 

捉迷藏
3

 洗刷刷
19

 

猜猜我吃了什么
4

 全家福
20

 

丰盛的野餐
5

 大家说我乖
21

 

画彩虹
6

 水果
22

 

新玩具
7

 谁最快
23

 

我会这样做
8

 动物园
24

 

放风筝
9

 

出门了
25

 

一起玩游戏
10

 

真好玩
26

 

我想做什么
11

 

我饿了
27

 

我一个人睡
12

 

爱吃什么
28

 

骄傲的蜂鸟
13

 

大家忙
29

 

原来它们会说话
14

 

比大小
30

 

现在的我们真幸福
15

 

我喜欢
31

 

一粒种子
16

 

怕不怕
32

 

我不想长大
Related Products